Children's DNA Discovery
Price: N/A
Testing: 1-2 person
Fantastic news for parents, now you can affordably find out about your children's behavioural tendencies. Get valuable knowledge about your child's cognitive abilities and physical attributes too with Children's DNA Discovery.
Thanks to genetic testing, being a parent can be made slightly easier. You can make more informed decisions about what is best for your particular child according to their genetic profile. This will enable a parent to try to give them the best start in life and use all their innate ability, skills they have a propensity for and DNA combined!
View a sample result by clicking the below image: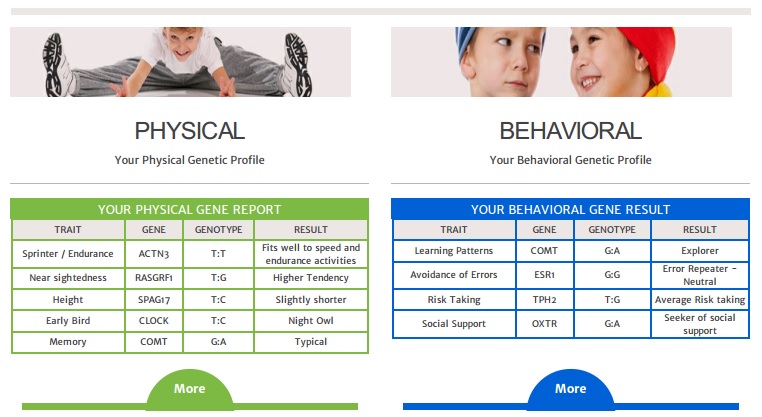 What is included in the Children's DNA Discovery package?
Athletic Potential:
Your child's genetic profile can help you decide which training or sports they should pursue. This can help a parent decide if athletics and running are a good fit or more endurance training or long distance type sports are more of a good fit for their child's athletic profile.
Avoidance of Errors:
Does your child have a hard time learning from their mistakes? His or her genes could be to blame, (not you!)
Height:
How tall will your child grow to be? The test can provide information on whether your child will be average or above or below average height.
Risk Taking:
Is your child a dare-devil? Sensation seeking type behaviour is motivated in a huge part by his or her DNA.
Memory Performance:
Can you child remember details of an event or forgets events or details straight away? Memory recall capability could be stored in his or her DNA.
Morning or Night Person:
Is your child a night owl or a happy morning person? A lot of factors impact the body's internal clock but scientists have discovered that DNA also plays a role in determining your body clock.
Near-Sightedness:
Genetic testing can predict whether your child may or may not need glasses in the future.
Learning Patterns:
Does your child rely on previous experiences to help make decisions? DNA unlocks how your child's genetics help to play a role in their decision making processes.
Social Support:
Does your child actively seek social support or prefers to cope alone during times of stress? This response to crisis lies in his or her DNA.
FAQs